Parish and School 65th & 60th Anniversary Celebration
The Parish Life Group (PLG) is hosting a two-day celebration for the Saint Simon Parish 65th and Saint Simon Parish School 60th Anniversaries! Besides the various celebratory activities, we have two different fundraising venues, and we look forward to your participation!
First is our virtual two days of giving campaign. As you all know so well, COVID-19 caused the biannual auction, that was to be held in February 2021, to be canceled. The last auction, in February 2019, raised over $200,000! While we cannot replicate the fun and festivities of the past auction, we do have wine bundles and raffle prizes to spark your enthusiasm. The specific goal here is to raise $100,000 to replenish our building fund reserves for the Parish campus for future projects such as a STEAM lab!  Over the last year, and in the middle of the pandemic, we spent over $250,000 to double our preschool capacity due to projected demand and for the 2021-2022 school year, the preschool will be full! We're thrilled about this great success; however, now we need to replenish our building fund reserves, which covers both the Church and School. To kick the fundraiser off, a parishioner has put up a $10,000 challenge match whereby the first 100 donors who donate at least $100 will be matched $100 per donor! And if your company matches your donation, that is a double match. We would love other challenge matches to be created, so please let us know if you would like to sponsor a challenge. Or just be a general sponsor as outlined on our giving page.
Our second venue is a tried and true one – Walk-a-Thon. This is such a great venue as it allows substantial participation by our St. Simon Parish School students and their parents, relatives and friends. We will also offer a Scavenger Hunt over the weekend, so that virtual students, CFF students and Parish families can participate. The simple goal here is 100% participation by our student body which allow many smaller donations – no donation is too small – to be leveraged up to a big one. Counting company matches, the previous Walk-a-Thon (Rock-a-Thon) raised over $50,000 for the St. Simon Endowment for Tuition Assistance. At December 31, 2020, the Endowment balance was approximately $600,000 and will pay out at least $24,000 for the coming school year for financial assistance for St. Simon families. This year, the Walk-a-Thon will raise money for the Endowment with the goal of $70,000! But the good news is that a donor has agreed to match every donation up to $35,000 in total, so we are already halfway there! And perhaps another donor will come forward with a match for the excess we raise over $35,000! And again, many companies will further match the individual donations.  The more we grow the Endowment, the more will get paid out each year for tuition assistance. It is such a great legacy to have to support present and future students of St. Simon's. Wouldn't it be nice to add $100,000 to the Endowment and then be able to pay out $28,000 to $30,000 next year!
In closing, our overall goal for the Anniversary fundraisers is $170,000. Please consider being a sponsor, making a donation or buying a wine bundle or raffle tickets. We look forward to seeing you at one of our many events. Thank you for your continued support of our Parish and School!
Blessings,
Father Brendan McGuire
Angela Schaufler & Melissa Moody (Anniversary Fundraiser Co-Chairs)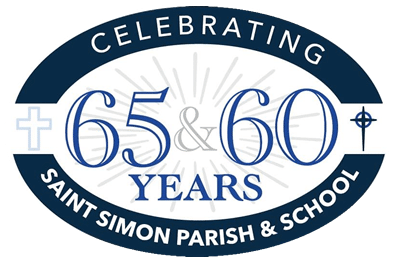 Wine Bundles
Treat yourself or surprise a spouse, teacher, or friend with this Anniversary Wine Bundle featuring two bottles of wine from Teac Mor Winery, two commemorative wine tumblers, snacks and a chance at a GOLDEN TICKET.  The Golden Ticket drawing features prizes including two nights at Meritage Resort & Spa, gift cards for Be.Stéak.Ă, The Sea by Alexander's, Forthright Oyster Bar & Kitchen, Village Pub, and Rosewood, Lake Tahoe Family Photo Shoot and Wholesale Interior Design Shopping Experience.  72% of proceeds go back to fundraising efforts.
Buy your limited-edition Wine Bundle for only $165, each comes in a sturdy & stylish Jute Blend Burlap Tote containing:
One bottle EACH of Teac Mor Russian River Valley Chardonnay & Pinot Noir. At Teac Mor, the principles of balance and simplicity allow the fruit to reach its greatest potential with unhurried fermentation at low temperatures that produces superior wines. For more details, visit 

http://www.teacmor.com/Home.html

.
Two St. Simon Commemorative Wine Tumblers
Commemorative Cookies & Special See's Chocolate Bar
Better than 1 in 20 chance to win a Golden Ticket prize
72% of sale proceeds go toward the Facilities Fund
Limited quantity available, 200 bundles for purchase at stsimon.org
CHANCE TO WIN A GOLDEN TICKET PRIZE IN YOUR WINE BUNDLE…
Two nights at the luxurious Meritage Resort & Spa, nestled among 9 acres of vineyards in the Napa Valley. So much to do, but you'll want to make time to relax, sip and savor!
Make your reservations for a celebratory meal:
Be.Stéak.Ă, a modern Italian steakhouse in The Pruneyard, Campbell from Michelin-starred chef Jeffrey Stout ($250 gift card, 3 available).

 

Be.Stéak.Ă

 –the name tells everything:

  

Steak. Italian. American.

  

Big.

  

Bold.

  

High-end steaks figure prominently in Stout's résumé. At Alexander's Steakhouse in Cupertino, he and his staff earned a Michelin star for three consecutive years.

The Sea by Alexander's Steakhouse, a 

seafood dining sensation blending contemporary cuisine with Japanese sensibility and ingredients. ($250 gift card, 3 available)
Forthright Oyster Bar & Kitchen, featuring fresh oysters and seafood every day. Try their craft cocktails at happy hour, excellent wine selection, or order from the Weekly Fresh Seafood Market. 

($250 gift card, 

2 available)
Village Pub in Woodside features locally grown produce and award-winning cuisine and has received one Michelin star for 12 consecutive years. ($200 gift card, 1 available)
Rosewood Gift Card ($200 gift card). Local favorite Rosewood Sand Hill offers 16 acres of urban retreat, resort amenities, fine dining at Madera Restaurant and an (in)famous cocktail bar.
Fabulous Family Photo Shoot in North Shore Lake Tahoe, one hour of beach or river photography.
Wholesale furniture & decor shopping at Interior Designer Cost. Shop like a pro and save at West Elm, Restoration Hardware, Pottery Barn & many more retailers, both big and small.
Thank You Donors, James Vincenzini, Moore Family, Matt Maese and Darcy Yaley, MHN Interiors, Nichole Cook Photography, Dominic Nicoli, Active Family Magazine!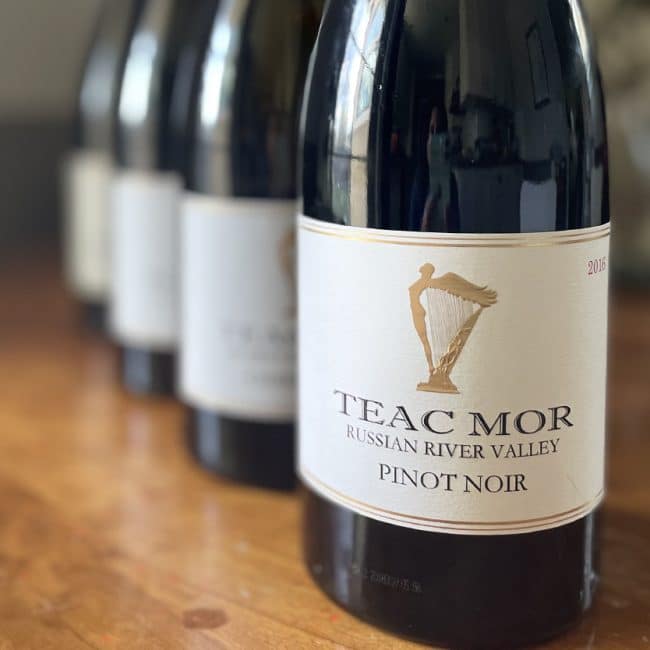 Three Raffle Prizes!
Abbondaza! Italian Gourmet Kitchen Basket
You'll knock their calzini off with this basket of Italian gourmet foods and kitchen essentials, right down to the serving dishes and lemon dish soap to wash up. We can't possibly list ALL the items you can carry in your beautiful Handwoven Basket, not to mention a Market Tote, but the bounty includes:  
embroidered floral apron and dish towels

 

coffee, Pellegrino and a bottle of Chianti

 

three kinds of Italian cookies

 

four Olivewood spoons for cooking and serving

 

an Italian cheese kit, pasta maker and stainless steel colander

 

five kinds of pasta and ravioli with two kinds of pasta sauce

 

hazelnut cream and raspberry-filled puff pastries and a lemon tart

 

pizza crust and a wooden pizza paddle

 

extra-virgin olive oil and balsamic vinegar 

 

Italian olives and tomato passata

 

pasta serving bowl, 39 oz. carafe and a mug and pitcher set

 

Limoncello 3-wick candle and Italian handmade soap for ambiance
Value: $500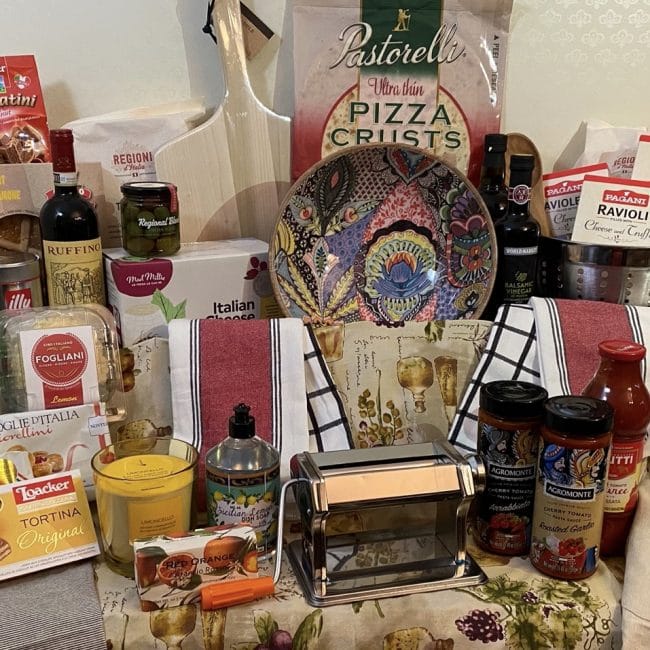 Beach Babies
You'll have sand between your toes (and everywhere else) with a monster basket for a day or a week at the beach.  Fill your tote bag with four colorful beach towels, pack the folding utility wagon and wave goodbye to the COVID blues with this basket full of surprises:
Mesh tote bag with castle mold sand buckets and sand scoop shovels
Giant inflatable Pineapple with Pineapple drink containers
Beach fun and games with a Velcro catch game, Spikeball game set, Uno Flip, and a 1000-piece puzzle
Catch the sea breeze with a Honbo Huge Shark Kite
Protect your complexion with two hats, a Quiksilver Pierside Straw Sun Hat and a Wide Brim Roll-up Visor
Three kinds of sunscreen and Off Natural Insect Repellent to slather on
A bottle of aloe vera gel and a first aid kit for when prevention fails
Telescoping Roasting Skewers and S'mores fixins: chocolate bars, marshmallows, graham crackers
Find your way home tired, full and happy by the light of a Lantern.
Value: $500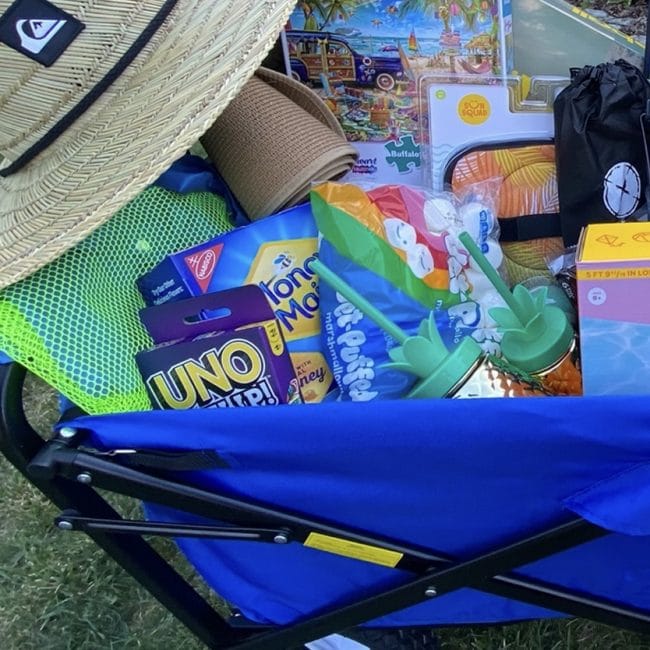 Eyes on the prize!
Untether your expectations with the Oculus Quest 2, an all-in-one VR Gaming Headset with a blazing-fast processor, next-generation graphics and impressive 256 GB storage capability. Includes two Touch Controllers, Glasses Spacer and Power Adapter. With a mondo selection of treats and drinks, you won't have to interrupt your game for a snack run.
Value: $500