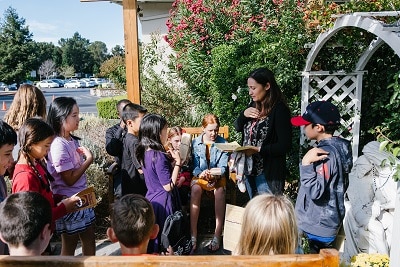 Children's Faith Formation (ages 3 through 5th grade) – CGS (Catechesis of the Good Shepherd)  and our CFF faith formation program for grades 1 through 5 using are the centerpiece of our Children's faith formation processes on Sunday at St Simon parish.
CGS and CFF combine with the following complimentary offerings to nurture Catholic family life in out St Simon families with young children.
Nursery (ages 18 mos through age 3) and CLOW (K through 2nd grade; Children's Liturgy of the Word) both of which are offered during the Sunday 9am mass
Nursery and parent sessions (offered during the morning CGS/CFF sessions) and
Full family events offered during both the mornings and afternoon CGS/CFF sessions.
Come and join us!
Register below:
Source MS-YM Faith Formation for Teens grades 6 through 8 also serves as our Confirmation preparation program at St Simon.  The sessions are typically the First and Third Sunday afternoon each month, with an occasional extra session or moved session to accommodate holiday schedules or for an off-site social outing.
The MS-YM sessions are held from 3:30pm-4:50pm and end just before our St Simon Sunday evening 5pm mass.
Every 4-8 weeks, we will have a "full family" session centered on the liturgical season.
Come and join us!
Register below: