Our faith community at St. Simon gathers in many ways.  The Fun & Faith events offer opportunities to spend time with others in creative ways.  When we have fun with others in our faith community, we experience God's love through each other.
All Fun & Faith events will be advertised on the home page of this website and in our parish eBulletin.  If you have any questions or suggestions, please email communications@stsimon.org or call 650-880-1411.
During pandemic, we were looking for ways to come together as a community.  Christine Moore, one of our parishioners and school Moms is a certified Sommelier.   Christine is part owner in her family vineyard, Teac Mor.  Our community have enjoyed their wines at many events.  She offered to do an online tasting and asked if Fr. Brendan might be interested in being her co-host and bantering.
Our new Pastor, Fr. Brendan McGuire was all in!  For years, he had been planning a "Wine & Word" concept of connecting the creation and enjoyment of wine with the word of God.
We started with a Christmas event featuring Teac Mor wines which was crazy fun.  Fr. Brendan and Christine sat outside with their tech crew while the rest of us sat in our homes, enjoying the event without worrying about driving home after.
A few weeks later, we all brought the New Year in full of fun and hopes for the end of pandemic.  It was a fabulous party.  We had sparkling wines featured at this sparkly event.  We counted down the New Year (East Coast time) with a large ball dropping from the roof!
Our third event was at Valentine's Day with the theme being "Love."  Again, we elevated the holiday with entertainment and amazing wine from V Sattuis Winery.
On Mother's Day Eve, we celebrated the nurturing women in our lives and expanded the wine selection to include two Mom owned wineries and enjoyed a Rose and an Albarino, which was very popular.  We also enjoyed a Pinot Noir from the Russian Valley and the wine maker joined us!
Stay tuned for our next event!  Watch for it in the Parish eBulletin.
Paint Night comes to St. Simon Spooncer Hall a few times a year.
At Paint Night, you learn to paint, talk with people next to you and go home with your own masterpiece.  There's an art teacher there to help you.  Everyone in the class is working toward creating their own version of the same painting. The teacher will lead you through the painting step-by-step, helping you to create the image yourself, and then while you're working he or she will wander through the easels offering advice and answering questions. You'll learn about mixing colors, the application of paint on the canvas, and how to create good composition.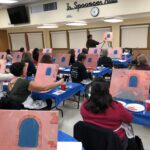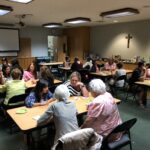 Bunco is a social dice game, traditionally played with 12 players who are divided into three tables with four players at each table. But really, almost any number can play.  The game itself is easy and quickly learned.  The fun is in how you switch tables often and meet different people while eating, drinking and throwing the dice.  Only skill needed is counting!  A few times a year, Simon room turns into our Bunco Parlour!