We look forward to seeing many volunteers for the return of our Rummage Sale! This is a wonderful outreach service as we re-sell items at a reasonable price and we give items to charities who need them.
Together, our community is caring for God's creation by re-using, re-cycling and re-purposing items. We'll need your help to sort and sell, so come join our team – it's fun!
Donation collections – August 13 to September 5, 2023 on Tuesday and Sunday evenings from 6pm to 8pm in the Parish Center. Email us to let us know you can come and help sort pnbsharrow@gmail.com
Thank you for your support of the St. Simon Community Rummage sale!
We look forward to seeing you in August.
Pattie Sharrow and Nancy Perkins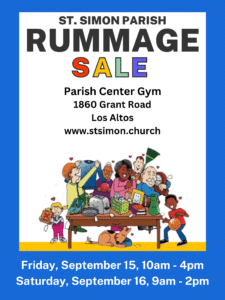 Rummage Wishes – Please bring your items grouped in categories to help us with sorting items.
These are the items which are popular with our customers and our charities:
Clothing – clean clothing for all ages, especially baby clothing

Shoes and boots – in good condition.

Kitchen items – small appliances that work, pots and pans etc.

Linens (clean) – towels, sheets, blankets and kitchen towels.

Decor – decorative and seasonal items are a hit.

Toys – games, dolls, complete puzzles and Legos are always popular.

Bikes – ready to ride, in good condition, we do not have time to fix them.

Sports equipment – (only gently used ski/snow boots, old ones do not sell).

Costumes are popular because the sale is shortly before Halloween.

Books and DVD's that are current and in good condition (no CDs).
Before donating, please consider:
Is this something someone can wear?  Do not bring us anything you would not want to wear yourself.
Is the item in good condition?  Only donate items that another family can use again.
Is this old and outdated?  Please recycle items like that, do not bring them to us as we do not have a dumpster.
Large or Special items to donate?
Please tell us about it at pnbsharrow@gmail.com because in the past we have had good luck with a very nice ping pong table, a large play structure for the yard and a few other items which were transferred between the donor and the buyer directly and the donor sent the check to the Parish Office after picking up the item from the donor's home.
Rummage Rejects – These are items that DON'T SELL. 
Please do not donate these to our rummage sale. We do not have a dumpster to dispose of these. You can refer to the Charity Resource List we have compiled for charities to donate to.
No electronic equipment – donate to the St. Simon E-Waste Event on August 5th hosted by St. Vincent de Paul Society. 10am – 2pm in the parking lot.

No furniture – see the Charity Resource List

No big appliances – see the Charity Resource List

No luggage of any kind.

No medical equipment, walkers, wheelchairs, etc.

No ski equipment (we will only accept lightly used children's ski boots).

No construction materials, light fixtures, lampshades and lamps.

No carpeting and scraps, rugs, draperies, window blinds or curtain rods.

No hardware or tools. Contact the Poor Clares Sisters, Los Altos Hills to donate garden tools.

No pet cages, dog and cat beds, litter boxes etc.
St. Simon Parish Rummage Sale Resource List of Charities Download List Here
We have a list of items that do not sell at our rummage sale for various reasons. So, what can you do with those items like furniture, appliances, etc?  Here is a list of Charities that you can contact and donate to. (FYI, WE WANT your pots and pans, flatware etc.so save those for us!)
Electronics – E-Waste Event in the St. Simon parking lot hosted by St. Vincent de Paul Society. Saturday, August 5th from 10:00am – 2:00pm.
Drop off your unwanted electronics items here so they do not go into landfill. More information here or contact Rose Mary Becker at wpbecker@att.net or ph: 650 930 0044.
Ecumenical Hunger Program in East Palo Alto accepts furniture and household items.
Contact email: donald@ehpcares.org to see if they need what you have.
Habitat for Humanity accepts furniture, construction materials and several other items.
Contact phone: 800-746-7090, or restore.habitatebsv.org 
Refugee Resettlement Village needs small scale furniture for apartments to house refugees and hand tools for families.
Contact phone: Marlene Somsak 408-242-2425 who will need to know what you are offering and what the "must go" date is.
Bay Area Furniture Bank accepts furniture for families in need.
Website: https://bayareafurniturebank.org/donate-furniture/
DGW Auctioneers in Sunnyvale auction many items on consignment. St. Simon has an account with them and when your donation is sold, the check goes to St. Simon.
Contact email: dgw@dgwauctioneers.com https://www.dgwauctioneers.com/
Sick Room Supplies – Patricia Boone  lends out supplies donated by local people.
Contact Phone: 408-316-5331
Garden Tools – Poor Clare Monastery of the Sacred Heart of Mary, Los Altos Hills
Contact Phone: (415) 948-2947
Goodwill has drop off locations near us.
Website: https://www.goodwill.org/locator/
Salvation Army drop offs are listed online.
Website: https://satruck.org/
Mission Trail Garbage Company bulky item pick-up (must be scheduled ahead of time).
https://missiontrail.com/losaltos/cleanup-bulky-item-collection-program

If you have found other ways to share items that we do not need, let us know. Thank you.